Christmas has always been my favourite time of year, not only because it brings together family and friends and reminds us to be humble, thankful and charitable, but because Christmas is that time of year when one can really feel the air crackle with magic. The magic, for most of us, lies in the Christmas spirit, the excitement that surrounds preparing to have friends and family over and, most importantly, the reasons why we choose to celebrate: what we believe.
In my new Christmas novella, The Deermaster, Chris Claussen wishes Christmas could be this straightforward, but for the inhabitants of Snow Falls, Christmas holds a different meaning altogether. Only one person can be The Deermaster, but what if he is completely ill-equipped for the job and non-committal to boot?
This Christmas, follow Chris Claussen and Carol Stern into the perilous North Pole, where nothing is what it seems and simple acts of goodwill can be more dangerous than a pack of starving wolves in sub-zero temperatures.
Get your copy free on Kindle from 21 December, 2017 until 25 December, 2017 and be sure to share! To make this Christmas extra special, I've designed a gift-certificate that will allow you to gift The Deermaster to friends and family for Christmas. Please remember though, The Deermaster will only be free for downloading until the 25th of December, 2017 at midnight PST or in South Africa until 10:00 on 26 December, 2017.
Click below to preview, "buy" and share The Deermaster. This book is also available in paperback format. Click here to buy it.
Click on the image below to open the gift certificate, which you can then download, email or print for friends and family! Do you live in the UK, Australia, Canada, or somewhere else? Send me an email to christina *(at) christinavandeventer.com and I will happily send you a gift certificate for your respective Amazon Online Market. *Replace with @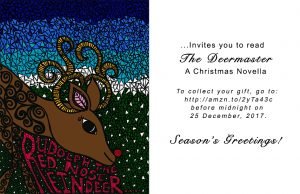 Last, but not least, have a wonderful Christmas 2017!